Chapter 3

Getting started

Load the ggplot2 library and read in the example dataset we'll be using for most of these plots. This is a timeseries of detections of different whale species collected by an ocean glider off southern Nova Scotia, Canada, in the fall of 2017.
3.1

Plotting

Let's make a bar plot of how the number of detections per day (n) changed over time (date). We'll specify that we're going to use df as our input data, that the variable date should be mapped to the x axis and the variable n should be mapped to the y axis, and that we'd like to use a column (col) geometry. Here's how to do that: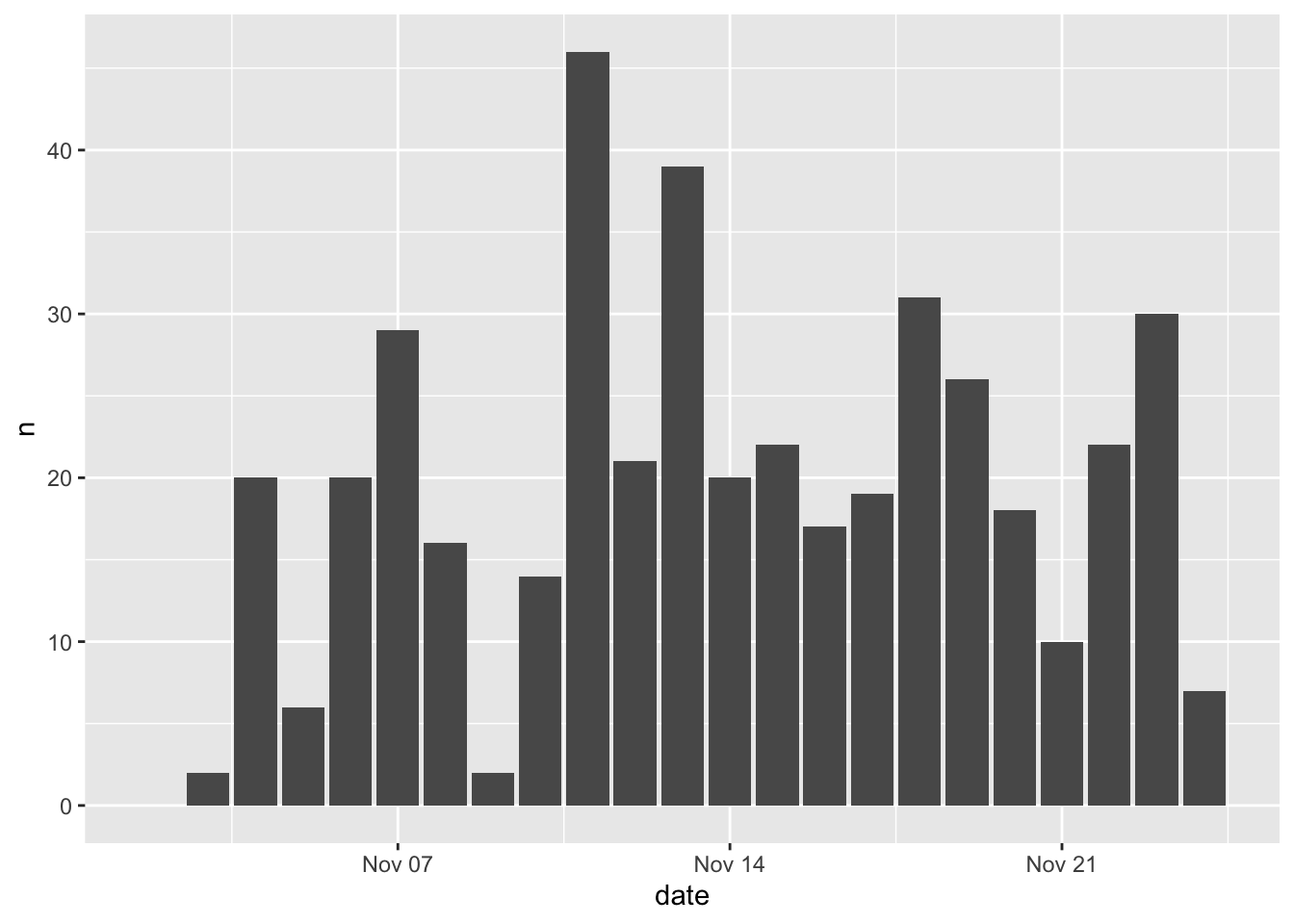 There are a few things to note here:
every ggplot2 plot must start with the ggplot() function

the + is used to connect multiple functions associated with the given plot

the data = argument is used to refer to the input table

the mapping = argument is used to refer to the mapping aesthetics, which are specified using the aes() function

the geometry is specified using the geom_col() function.
You will also see this written as follows: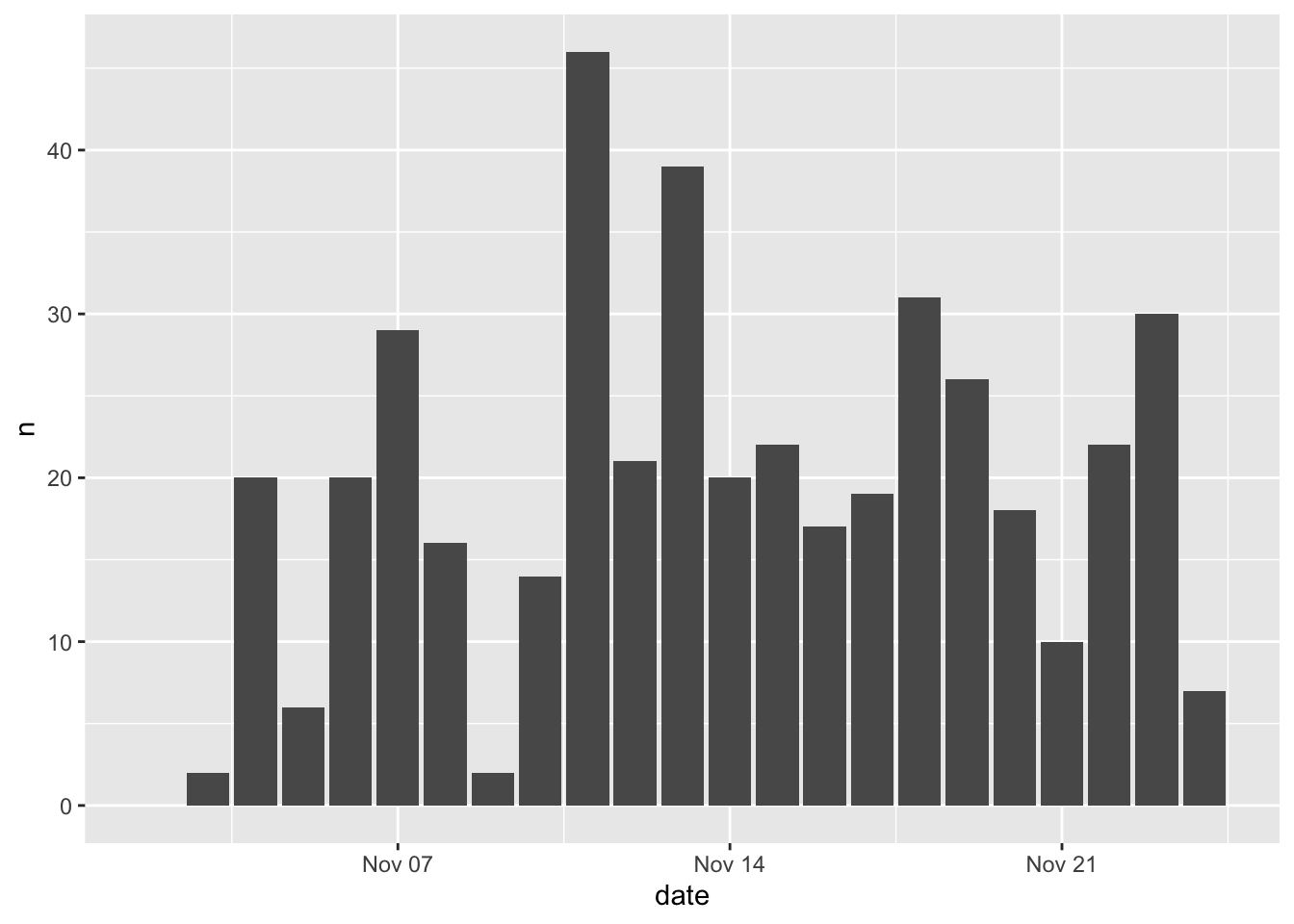 This produces identical results. I prefer using this method because it makes things easier down the road when things get more complicated and you're using multiple geometries to map different aesthetics from different datasets.
Now let's get a little more sophisticated and add use some color to distinguish between different species (species). That is as easy as setting the fill=species within the aesthetics mapping (aes()).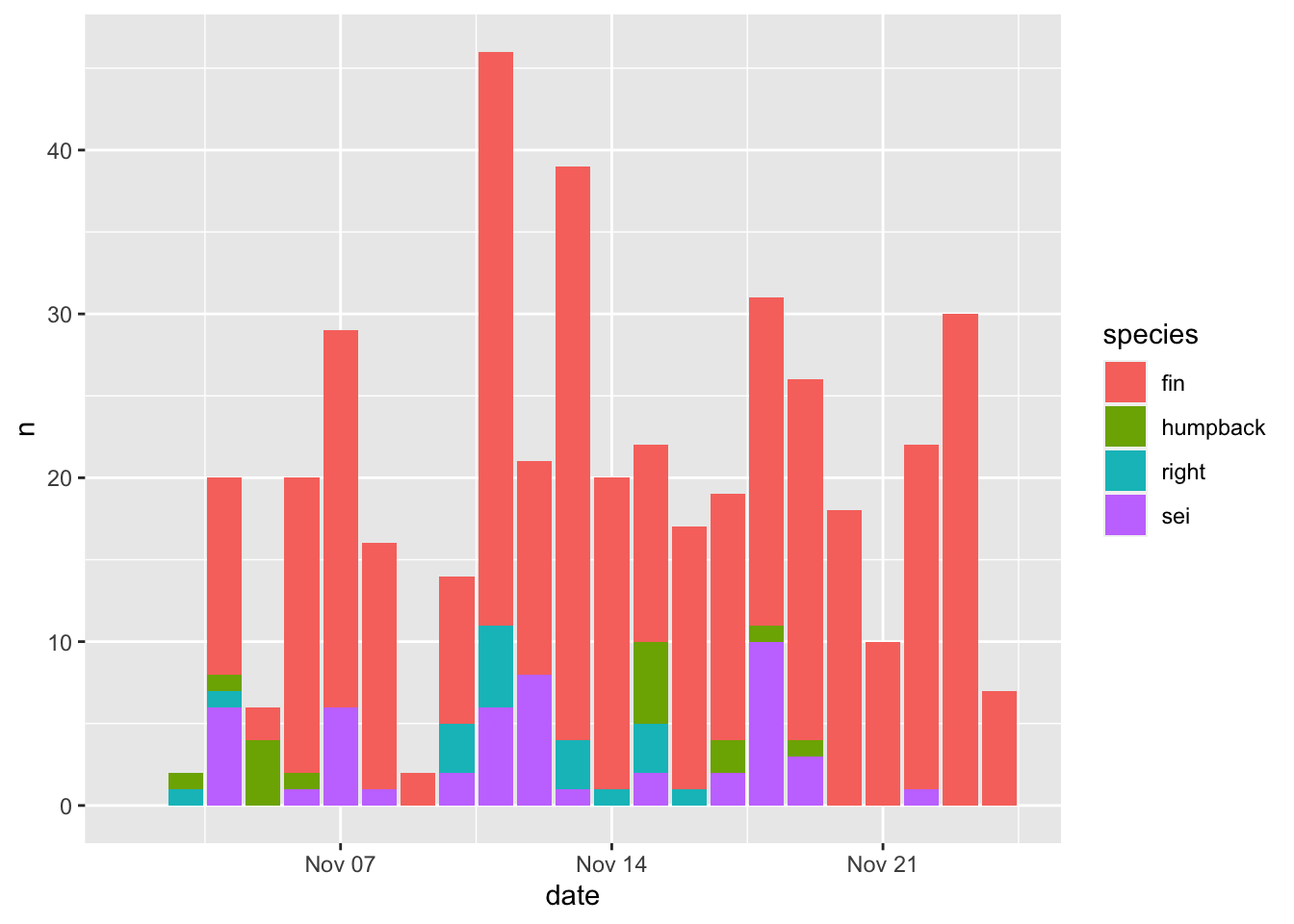 Note - the default ggplot colors are NOT colorblind friendly!
Aesthetics that are specified outside of aes() are applied to that geometry, but not mapped to the data. Here color = 'black' will make the border of all bars black, regardless of the mapping between aesthetics and data.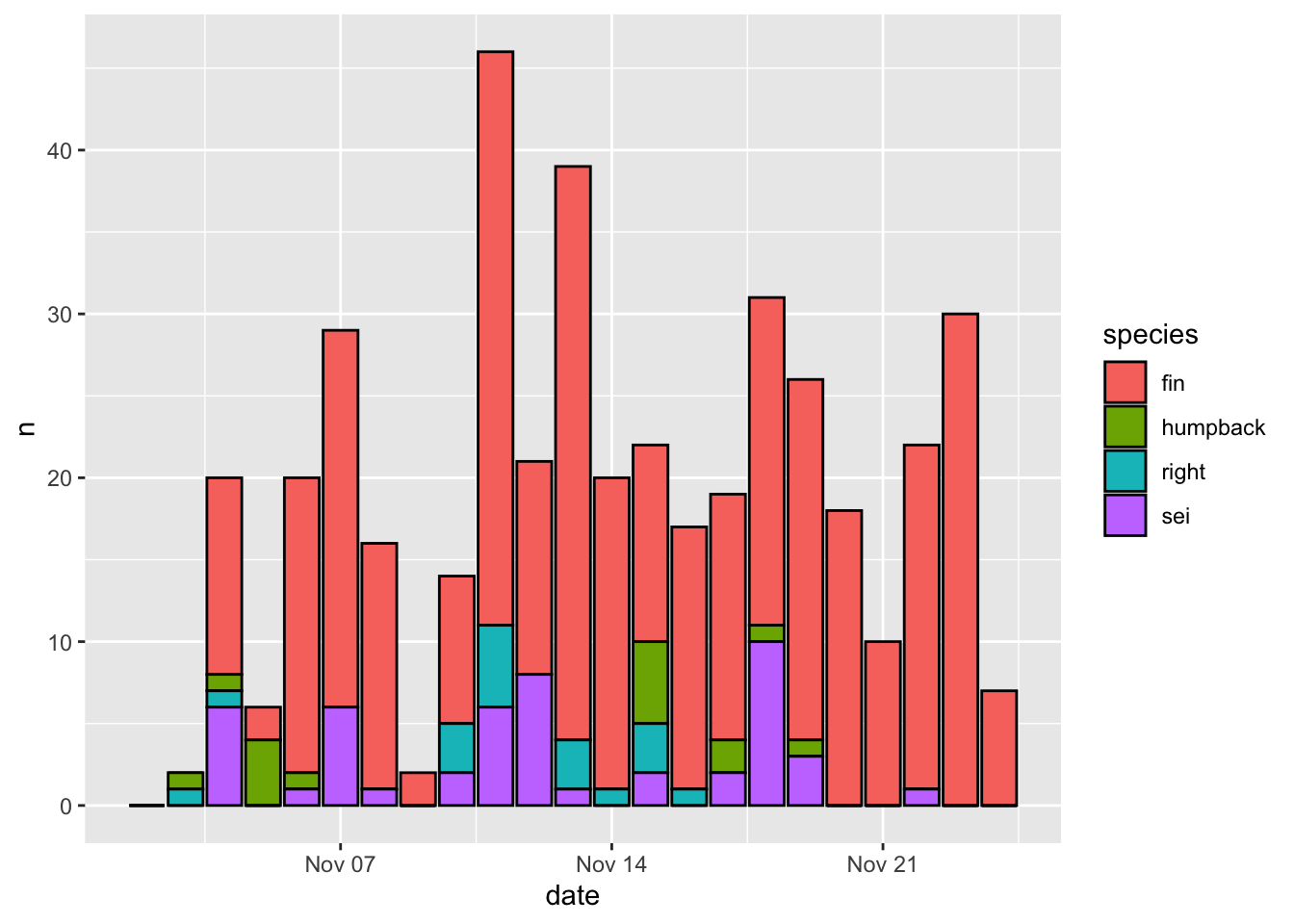 The output of a ggplot() function can be stored as a variable, which can be further altered, plotted, or saved later on.
Let's build the plot again, but store it as p instead of plotting it
And now we can plot it by simply printing the variable p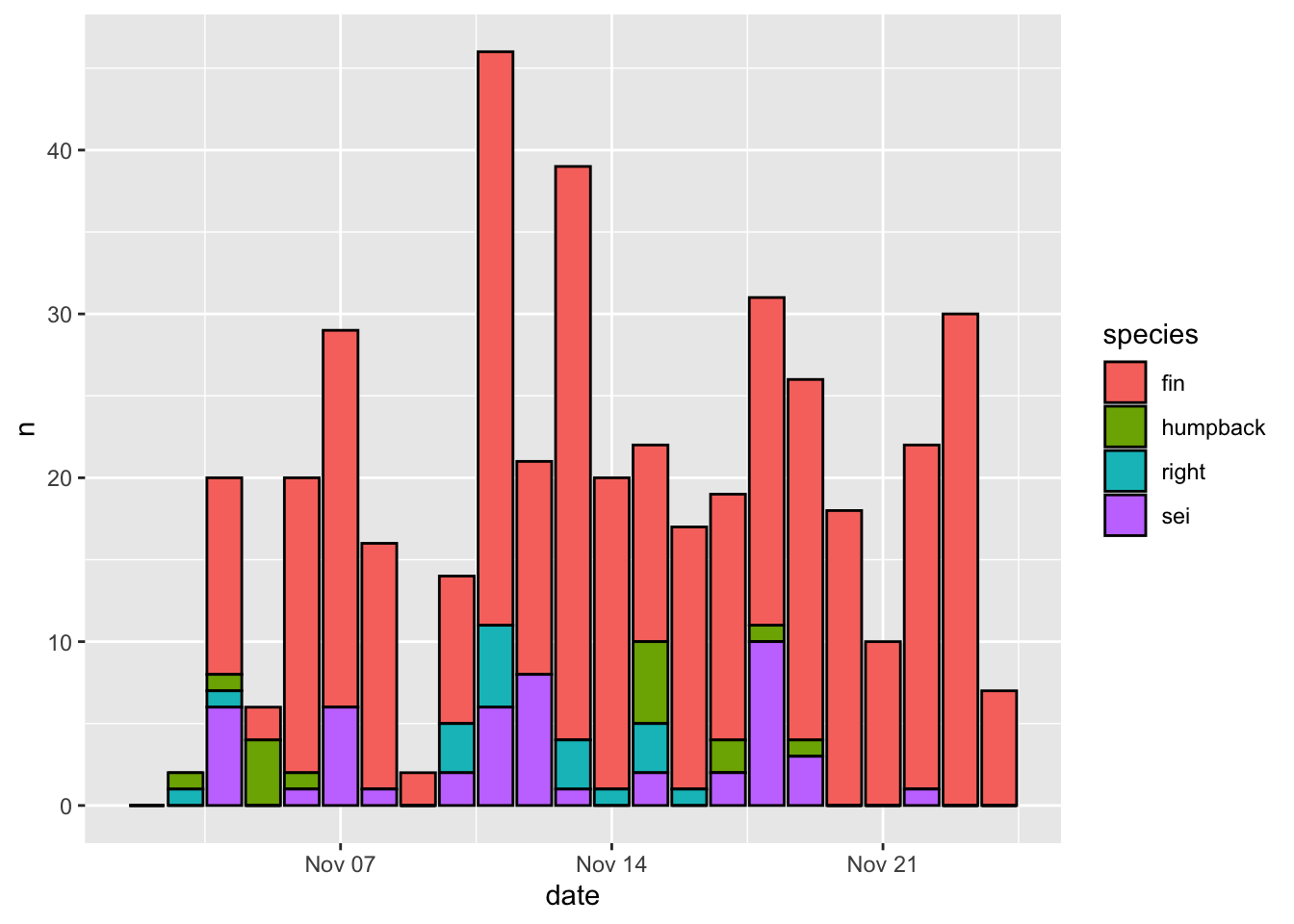 3.2

Formatting

The default formatting options have been carefully chosen so that plots produced by ggplot2 tend to look pretty good right out of the box. Let's go through some simple, common formatting tweaks.